Inspired by the early hours that mark the break of dawn, Celesta Rise apartment symbolizes the start of something new, a fresh start where you can bask in the warmth of the sun. Arise to a new day, every day, at Celesta Rise project.
Specially Made for Life's Precious Moments
Overview of Celesta Rise project
Celesta Rise is a 2.8-hectare development located within the Celesta development, a 6.2-hectare masterplan in Saigon South.
The Celesta masterplan will be developed in phases, with Celesta Rise as the first phase — comprising 923 premium apartment units with a diverse range of facilities for all ages. The second and third phases are a mere stone's throw away from Celesta Rise and will be developed soon.
Celesta is a destination that celebrates the luxuries of life, where special moments are cherished through generations.
| | |
| --- | --- |
| Blocks | 5 |
| Floors | 20 |
| Units | 923 |
| Construction Ratio (For Towers) | 25% |
| Land Area | 2.78ha |
| Handover Expectation | Q4/2022 |
Layout Celesta Rise apartment
Like the rising sun, Celesta Rise brings new inspiration to your everyday life, surrounded by the serenity of nature and the luxuries of urban living. With a total of 923 units spread across 5 towers, nestle into new beginnings and the warmth of home at Celesta Rise.
| | | |
| --- | --- | --- |
| 1-Bedroom | 48.8 m2 | 38 units |
| 2-Bedroom | 78- 90 m2 | 569 units |
| 3-Bedroom | 105 m2 | 282 units |
| Street-Front Unit | 170 – 190 m2 | 34 units |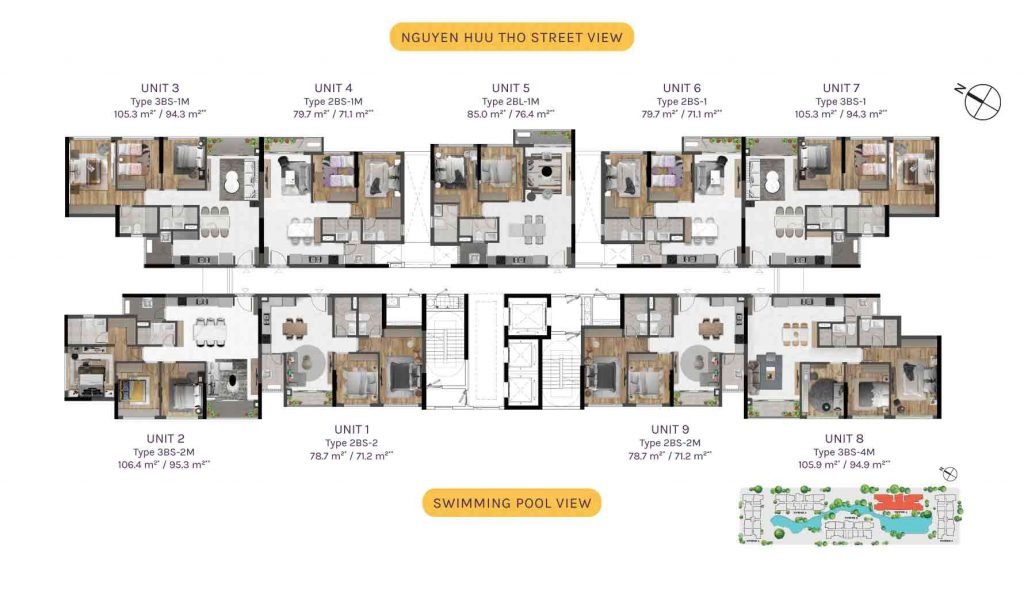 Where Magical Moments Come Alive
Location of project
Nestled in the Heart of Saigon South
Celesta Rise is strategically located amidst key amenities including offices, shopping malls, educational institutions, and hospitals for your utmost convenience.
Feature of Celesta Rise
Seize the Morning at the 50m Lap Pool
Start your day with an invigorating swim at the Olympic-length lap pool. Relax by the lavish cabanas and gaze upon verdant greenery as you soak in your daily dose of morning sun.
A 50m Free-form Pool for a Rejuvenating Respite
Let your troubles melt away as the waters relax and soothe your senses — come home to an oasis of calm.
Precious Family Moments at the 50m Water-themed Play Pool
Fun is in store for the whole family — the kids' pool is fitted with features for members of all ages! Have a splashing good time with water jets, water guns, and even a slide down the play boat.
Where the Young Can Run and Play
Enjoy the happy laughter that fills the air as you run and play with your little ones in thoughtfully curated play spaces. Let their imagination run wild at the playground and treehouse as they embark on exciting adventures of their own.
Vibrant Spaces for Family Bonding
Step into the vibrant spaces of the Celesta Rise Clubhouse. Explore a lush sanctuary and luxuriate in serenity within the curated facilities, providing entertainment suitable for every age.
Live It Up at the Deluxe Clubhouse, the Biggest Ever in Saigon South
Spanning over three stories with a total area of 1,440m2, this exclusive clubhouse has everything you need and more. Complete with premium equipment and well-thought-out spaces that cater to a myriad of activities, the Deluxe Clubhouse provides a recreational haven for those who seek an active lifestyle.
Fun in the Sun at the Pet Park
A place where your furry friends can roam happily and freely, complete with pet-friendly amenities for every pet owner's convenience. Run and play freely amidst the lush, landscaped gardens.
Fitted and Furnished for a Warm Welcome Home
A modern twist to the comforts of home. Choose between a fully fitted living space, or opt for a bare unit to create your ideal sanctuary.
Where Comfort and Leisure Reside
Delight in the joy of crafting meals with a selection of quality kitchen appliances from renowned brands, carefully selected to bring you the best. Designed to provide a wholesome culinary experience, enjoy a warm and hearty meal right by the kitchen.
Another quality residential development from Keppel Land and Phu Long
Keppel Land
Is the property arm of Keppel Corporation, one of Singapore's flagship multinational companies with a global footprint in more than 20 countries. Keppel Corporation provides solutions for sustainable urbanization, focusing on energy & environment, urban development, connectivity, and asset management.
As a multi-faceted property company, Keppel Land provides innovative real estate solutions with its sterling portfolio of award-winning residential developments, investment-grade commercial properties, and integrated townships. Keppel Land is geographically diversified in Asia, with Singapore, China, and Vietnam as its key markets, while it continues to scale up in other markets such as Indonesia and India.
In Vietnam, Keppel Land is a pioneer and one of the largest foreign real estate investors with a quality portfolio mainly in Ho Chi Minh City, including Grade A offices, residential properties, retail malls, integrated townships, and award-winning serviced apartments.
Phu Long
Established in 2005, Phu Long's mission is to construct architectures and living spaces that are timeless, comfortable, cultured, secured, and environmentally friendly.
As a real estate corporation operating under the global sustainable business standard, Phu Long continues to expand its field of business in the development of smart cities and premium hospitality in key cities as well as famous tourist sites in Vietnam such as Ha Noi, Ho Chi Minh, Nha Trang, Da Nang, and Phu Quoc.
Phu Long is committed to being the companion of our customers, building and developing products that meet the best standards to ensure each project always adds value to their customer's property investments through international management methods, and always assuming the highest responsibility towards the community on environmental issues and social security.