The Ascent of style
It is a testament to what modern lifestyle should be. Towering proudly at the heart of Thao Dien, the most sought – alert area on the east side of Saigon, the Ascent – Thao Dien Condominiums sets a new standard of modern living in Saigon with its 280 apartments in two QQ-storey buildings specifically designed to create a harmony between nature and affordable luxury lifestyle.
Earth-friendly material are carefully selected and used in the design, helping reduce energy consumption by 20.2%, water consumption 20.3%, and other material consumption 30.4%. This innovative approach to designed has won the award for Excellence in Design for Greater Efficiencies (EDGE) from International Finance Corporation (IFC), a member of World Bank Group.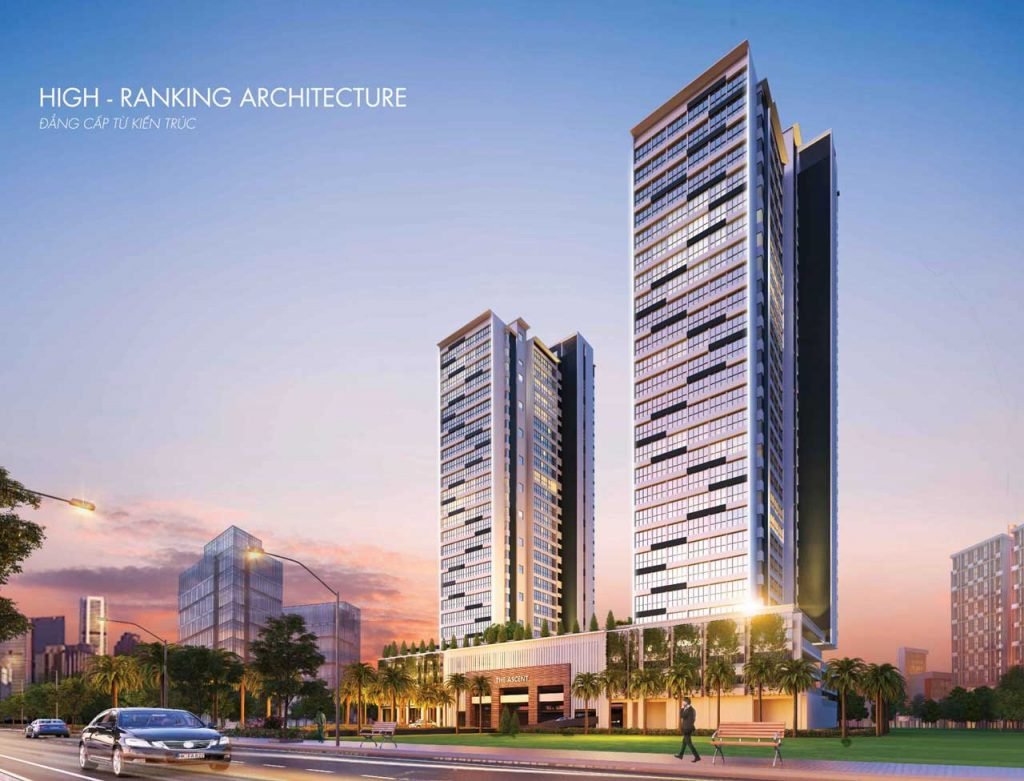 East Saigon way to the future
The east of the city integrates tightly with the west side, the ring roads, interregional highways. Transportation systems and infrastructure are in the final stage of development, and soon will form the basis for District 2 and District 9 to become the new financial centre and the High-Tech town of Saigon.
From 2012 to 2020, 11 infrastructure projects will be developed with an estimated cost of 250,000 billion dongs, accounting for 70% of investment budget for the development of the City's transportation system. This plan will eventually unleash the potential strength of the real estate market in the area, creating golden opportunities for both investors and home buyers who dare to act with more sights and swift executions.
The Ideal Place of The Ascent Thao Dien Condominiums
Nested in a verdant area along Quoc Huang Road, District 2, The Ascent – Thao Dien Condominiums provides its residents with not only a tranquil life free from the city's noise and bustle but also a comfortable living environment with quick access to services and facilities of international standards. The gentle/ and gorgeous Saigon river is just a short walk from the condominium, constantly sending in cool breezes refreshing and Vitalizing the place.
Besides, the development also enjoys a wide range of surrounding amenities to fully satisfy all residents' needs for a perfect life.
---
Education
Bristish International School
Australian International School
Smartkids Kindergarten
Shopping & Entertaiment
Vincom Mega Mall Shopping Center
Parkson Shopping Center
An Phu Super Market
Medical
Family Medical Practice
Hoan My Thao Dien Clinic
F&B
The Deck Restaurant
Boat House Restaurant
Amenities & Services
Meticulously grafted in every detail, the Ascent – Thao Dien Condominium is the perfect retreat place. Everything is within reach and ready for you to enjoy, and you are always welcomed to share with other residents a beautiful open space. Soft green vines hang on the glass wall, covering three sides of the buildings and always giving you a refreshing feeling.
There is a service or facility for your every need, and you can sit down and relax while knowing that your cars and motorbikes are well protected in three parking floors smartly utilizing natural ventilation. You can now forget your last parking space.
| | | |
| --- | --- | --- |
| Main portal | Heated pool | Sauna |
| Mininature | Cabana | Playground |
| Lobby | Wading pool | Pool lounge |
| Public room | Party pool | Reading room |
| Clinic | Star light pool | Gymnasium |
| Kindergarten | Dining pavillion | Yoga deck |
| Play ground | Kid playground | Jacuzzi |
| Bicycle Parking | Spa | Miniature |
| Walking path | | |
| Mini pnd | | |
| | | |
| | | |
Interior Design of The Ascent Thao Dien Condominiums
From a panoramic view of the city and the charming Saigon river to high-quality furniture and the way your living space is organized, you will see that the living spaces truly reflect the lifestyle you desire at the Ascent. We are sure that the passionate attention to detail in the design of each apartment will wake you up with a great sense of pride.
Eco Architecture
The architecture language is perfectly integrated with simple and balanced surfaces, embellish modern features of the project. Walls are stylized as the stairs to innovation, welcome a bright and promising future.
Inspired by the beautiful views of the Thao Dien peninsula, landscape design of The Ascent is the harmony between man and nature. In this place, the value of nature is honored in each area of grass, every tree silhouette onto the lake or the gravel path that takes you on a peaceful wall.
Beside The Ascent – Thao Dien Condominiums architectural masterpiece, Tien Phat has reaffirmed company's brand in real estate market through developing and cooperating much high quality, cetral location and stunning view apartment projects such as Grand Riverside (Dist-4), Soho Riverview (Binh Thanh District}, Riva Park (District 4), Saigon Pentaview (Binh Thanh District}…
Prestigious partners
To realize The Ascent – Thao Dien Condominiums architectural masterpiece, Tien Phat has partnered with prestigious names in the field of construction, banking and finance, real estate distribution.
The project quality is attested by the general contractor building design and construction – Hoa Binh, one of the most reputable contractors in Vietnam. Besides, the project is also financed by the National Commercial Bank (NCB) with 20 years of experience in the financial sector and delivered by HoaBinh House.