Vinhomes Central Park carries the mission of pioneering a new way of life and changing the face of Ho Chi Minh City.
Developed by Vingroup – the biggest real estate corporation in Vietnam, Vinhomes Central Park possesses 44ha of land among which are vast green spaces and comprehensive amenities that resemble a miniature city. Everything promises to offer residents and tenants an ideal living experience.
Especially, three exclusive serviced apartment blocks Landmark 4, Landmark 5 and Landmark Plus are now open for the first tenants to come and enjoy these rarely seen privileges, Vinhomes Serviced Residences are perfect for enjoying life in Vietnam to the fullest
Vinhomes Central Park Project
Address:
720A Dien Bien Phu St., Binh Thanh Dist., HCMC
Developer
Vingroup
Project of area
44 ha
Structure
– Condominium:
+ The Central
+ The Park
+ The Landmark
– Luxury villa area
– Landmark 81
+ Distinctive luxury Trade Center / Entertainment Center
+ Condo
+ Hotel
– Class Boat station
– International Hospital Vinmec
– K-12 Vinschool
– 14ha Riverside park
Unit Type
1 bedroom: 50m2
2 bedrooms: 68-72m2
3 bedrooms: 98-135m2
4 bedrooms: 147-160m2
Construction Schedule
Start construction: Aug 2014
Expected handover date: 2016
Tenure
Free-hold ownership for Vietnamese
50-year ownership for foreigners
PRIVILEGE TO LIVE WITHIN CLOSE PROXIMITY OF ATTRACTIONS
Within only1 minute on foot
Swimming pool at the foot of each building
Busy shops and restaurants
Within only 2minutes on foot
Landmark 81 – the tallest building in Vietnam
Vinmec international hospital
K-12 Vinschool
With a 2-3 minute drive
Center of District 1, District 2
With a 25 minute drive
Tan Son Nhat international airport
And limitless connections to neighboring industrial parks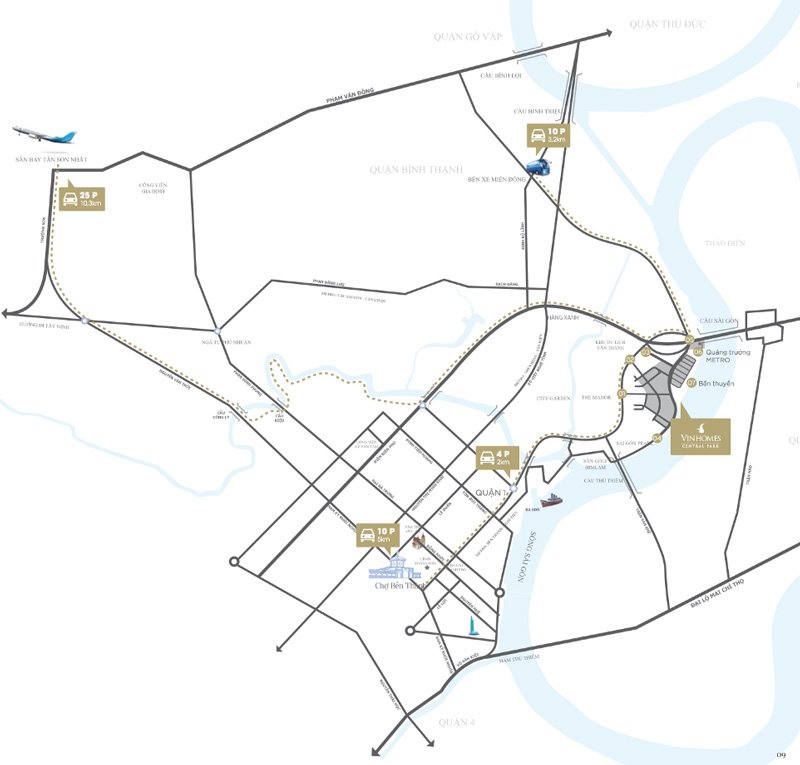 PRIVILEGE TO LIVE WITHIN CLOSE PROXIMITY OF ATTRACTIONS
Inspired by New York's Central Park, the Vinhomes Central Park's parkland embraces the breezy Saigon River and is the largest riverside park in Ho Chi Minh City. This 14-hectare park includes within itself 40 amenities to offer residents truly relaxing living experience:
Mini golf course
Koi pond
Walking boulevard
Kids' playground
Multi-purpose grass field
Observation decks
Japanese garden
Sport facilities
PRIVILEGE TO LEAD A VIBRANT LIFE IN THE HEART OF HO CHI MINH CITY
International residents willl be able to feel Vietnam's new "vigor" as they live only steps away from Landmark 81. This building possesses comprehensive facilities and services such as Vincom Mega Mall, indoor ice rink, restaurants, shops… It is expected to become the most dynamic cultural, entertainment and commercial hub in Ho Chi Minh City.
Residents of Landmark 4, Landmark 5 and Landmark Plus is e will live a convenient life only minutes away from all the excitement of the modern world.
PRIVILEGE TO USE COMPREHENSIVE FACILITIES
Vinhomes Central Park gathers all necessary factors to create a perfect living environment such as K-12 Vinschool, Vinmart convenience stores as well a multitude of luxurious shophouses.
Especially, the Vinmec international general hospital within Vinhomes Central Park is one of very few Vietnamese hospitals to be awarded the in ternational JCI certification the most reputable medical service certification in the world, recognized in 90 countries.
This is also the "golden standard for leading hospitals worldwide. With state-of-the-art facilities, the hospital's highly qualified medical professionals and foreign -language-speaking customer service staff are always available to provide support to residents of Vinhomes Central Park
PRIVILEGE TO STAY IN A CLASSY SERVICED APARTMENT
Vinhomes Serviced Residences in Landmark 4, Landmark 5 and Landmark Plus boast outstanding advantages that attract foreign tenants in Ho Chi Minh City. These apartments promise to deliver a living experience desired by the most discerning clients.
Smart layouts that maximize living spaces
Fully furnished
Low-E glass panels that reduce the impact of sunlight
Wifi and international television
Gym
Community room
Guest lounge
PRIVILEGE TO INDULGE IN 5-STAR SEVICES
Foreign-language speaking receptionists
Professional housekeeping services
Skilled and dedicated technical staff
PRIVILEGE TO LIVE IN COMPLETE SECURITY
Security gates at each building
CCTV system
24/7 security patrols
Apartment layouts Vinhomes Serviced Residences
Price for sale and for rent in Vinhomes Central Park apartment
Type
Size
Average price
1 bedroom
50-57m2
For sale: 160.000 usd/unit
For rent: 800 usd/month
2 bedrooms
76-87m2
For sale: 220.000 usd/unit
For rent: 1200 usd/month
3 bedrooms
99-110m2
For sale: 280.000 usd/unit
For rent: 1500 usd/month
4 bedrooms
~150m2
For sale: 450.000 usd/unit
For rent: 2500 usd/month