Listen to us telling the story About the journey to create a new standard of living in Binh Duong Province at C-Sky view.
PROJECT OVERVIEW C-SKY VIEW
Investor
C-Holdings Joint Stocks Company
Location
Tran Phu Street, Chanh Nghia Ward, Thu Dau Mot City, Binh Duong Province
Total area
8,596.4 m2
Construction density
40%
Number of blocks
2 blocks
Number of apartments
1,166 apartments
159 apartments – 1 bedroom
814 apartments – 2 bedrooms
157 apartments – 3 bedrooms
36 apartments – Penthouse
Apartment area
53 – 173 m2
Expected delivery time
April 30, 2021
More information please view website investment: http://www.c-holdings.vn/du-an-c-skyview
JOURNEY TO CREATE OUR NEW LIFE ENVIRONMENT
Mr. NGUYEN QUOC CUONG General Director of Chanh Nghia Quoc Cuong Joint Stock Company
"We always listen to the feelings of homebuyers, feel the inconvenience of customers when they live in unqualified places, so that, we together with prestigious partners, create green and modern and livable spaces. Designed with Minimalism, C-Sky View is a place to help residents get rid of the daily worries and be ready to enjoy a comfortable life.
"There's no place like home" is the message we want every resident to feel when they settle down at C-Sky View. Whether studying, working or wandering anywhere, when returning to the home, residents will feel modern life right at the doorstep."
Mr. PHAM THANH HUNG Vice Chairman of CenGroup
"As a business development unit, CenLand wishes customers to be truly satisfied with the values from green living space to each of the high-end utilities that C-Sky View brings about. CenLand appreciates the dedication and will accompany the Investor Chanh Nghia Quoc Cuong to help residents fully enjoy 'the new living standard in Binh Duong' at C-Sky View."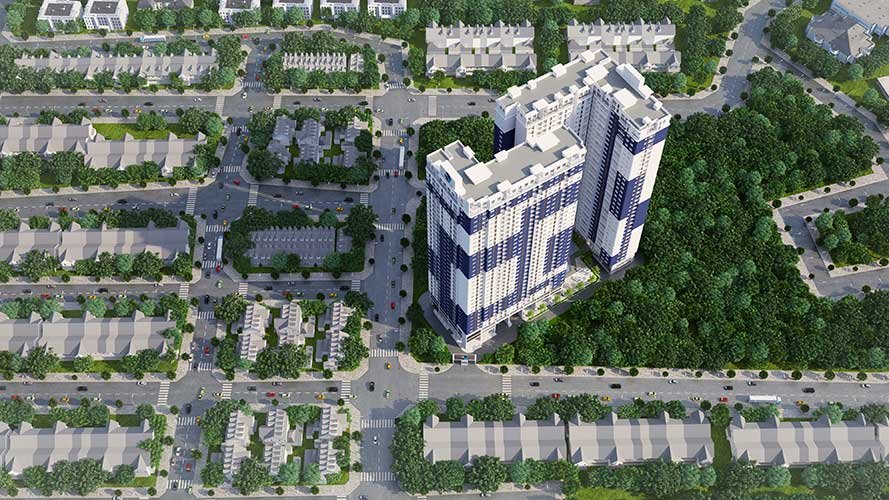 LOCATION OF C-SKY VIEW
Located in the heart of Thu Dau Mot City, choosing C-Sky View, Customers can safely choose an ideal place to live and invest with a variety of modern entertainment and playing facilities.
5 minutes to: Becamex Tower, schools of all levels, Big C, CGV theater, park
10 minutes to: Hospital, bank, Thanh Le park
15 minutes to: AEON Mall, Coop Mart, Go Dau Stadium…
LONG RESIDENCE AND ENJOY EVERYDAY
Choosing to have a long residence at C-Sky View, customers will enjoy full value of life that each person pursues. Every day, residents will always feel comfortable when they wake up early in the morning, starting a new day with positive energy. By the end of a long day, all family members gathered and joined together, enjoyed high-class utilities, reached the standard of a new life that is comprehensive, well-off and complete.
INTERNAL FACILITIES OF C-SKY VIEW
600 m2 swimming pool with integrated water sports, Jacuzzi, relaxing pool…
Relaxing hut, sunbathe
Multifunctional lawn: picnic, sport ground…
BBQ garden
Asylum shelter
Community living room
Green park
Children's play area
THE HIGHEST SYMBOL OF THE CITY – A MASTERPIECE OF MINIMALISMISM
With a height of 125m above the ground, C-Sky View is the highest symbol of Thu Dau Mot City. The free blue color of the sky and the galaxy's nature are the inspiration for creating C-Sky View's landscape space.
Besides that, with the idea from the art of Origami paper folding, the project interior space is created from focusing on exploiting cubes, towards a luxurious and classy space with minimalism.
The attractive landscape that customers can easily see in C-Sky View is the immense green surface of the pool, the promenades extracted with rustic wood, the wide green lawn creating the feeling which is immersed with nature. All of this creates an ideal and classy settlement, worthy of being one of the most advanced projects in the area.
APPLICATION OF TECHNOLOGY 4.0 IN MANAGEMENT AND OPERATION
Owning an apartment at C-Sky View, residents will experience modern technology life that was previously only in the human imagination. Through smartphones with the Internet connection, residents' life becomes easier and more convenient. Just a light touch on the smartphone, all residents' requests will be immediately enforced. From the control of the electrical system, water, curtains… to connecting, exchanging, receiving notifications to the community… helping residents save time and rational use of energy resources in the apartment.
INTERIOR IS SELECTED FROM PRESTIGIOUS BRANDS
The interior of each C-Sky View apartment is carefully selected by the investor to bring modern beauty and sophistication to the living space. The entire interior of the apartment is a product of famous brands: Wilson's wooden floor, Schneider electrical appliances, MPE ceiling lights, Inax sanitary equipment… Residents are living in a comfortable and classy space.
SALES DEPARTMENT OF C-SKY VIEW
212 Tran Phu Street, Group 98, Quarter 11, Chanh Nghia Ward, Thu Dau Mot City, Binh Duong, Viet Nam