The Riverin Thu Thiem
The Riverin Thu Thiem, Dai Lo Vong Cung St., District 2., HCMC
Project overview
Get inspired from other similar successful stories in developed countries as Sydney Harbor, Pudong Shanghai, The Riverin Thu Thiem apartment is developed to be the new metropolis of Saigon, an international standard new urban area right next to the heritage CBD.
Address:
Dai Lo Vong Cung Street, Thu Thiem new urban area, District 2, HCMC
Investor
Khu Bac Thu Thiem Co.,LTD
Architectural Concept Consultant
DP Architects PTW LTD
Structural Consultant
Arup Vietnam Co.,LTD
Mechanical Electrical Design Consultant
Aurecon Vietnam Co.,LTD
ID Consultant
The ID Dept. PTE LTD
Landscape Consultant
Ecoplan Asia PTE LTD
Local Architectual & Structural Consultant
CCNT Vietnam ., JSC
Construction Management
Core Asia project Management Co.LDT
Quantity Surveyor's
Arcadis Vietnam Co.,LTD
Contractor
Long Giang Construction Foundation JSC
Project of area
3,5 ha
Product
Apartment, Sky Villas, Shophouse, Penthouse, Duplex
Unit Type
1 bedroom: 70m2
2 bedrooms: 100-120m2
3 bedrooms: 165m2
4 bedrooms: 220m2
Construction Schedule
Start construction: 2019
Expected handover date: 2021
Tenure
Free-hold ownership for Vietnamese
50-year ownership for foreigners
A WELLNESS OF THE RIVERIN PROJECT
LIVING SPACE WITH CUTTING-EDGE TECHNOLOGY AND HOME INTERNET OF THINGS (IOT)
Smarth in touch – A simple "touch" for a more comfortable life
Smart Things and the Internet of Things systems con- nect every device in your apartment with highly per- sonalized scenarios. With automated functions built into each home appliance, all it takes is a simple touch to enjoy your own bespoke space.
Smart in value – Excellent additional value
The combination of amenities and appliances from leading brands guarantees exceptional and sustainable value appreciation for your property.
Smart in care – Taking care of you every day
Your AI assistant, accompanies you like a diligent butler throughout your residence. The modern microhole wind-free air conditioner provides cool, fresh air every day. Meanwhile, the connected smart door lock system, CCTV and fire alarm system mean you'll never have to worry about security and safety, no matter where you are.
---
DIFFERENTLY OF THE RIVERIN THU THIEM APARTMENT
ENJOY LIFE
While the bathrooms at The Riverin Thu Thiem are the most unique aspect of the interior design, these spaces will also spur a trend of enjoying life in a completely different way.
Fully equipped with unique, modern ameni- ties, from the entertainment screen bathtub, a special design by Karim Rashid, the 'father' of thousands of interi- or designs for famous brands around the world; to a wardrobe with a double sided mirror cabinet and plenty of open space, this will be the place to pamper your- self like never before while getting ready with full energy and a perfect appearance for every day.
UNIQUE DESIGNS
WITH AMENITIES USED IN VIETNAM FOR THE FIRST TIME
The 360-degree body of water embraces all four sides of the building, featuring a swimming pool, spa pool and landscaped ponds, transforming the apart- ment tower into a stunning green oasis.
Apartment owners will be able to enjoy beautiful views from any angle. Colorful gardens give the space the warm, open feeling of the tropics, and the BBQ island offers a one-of-a-kind location for parties and gatherings.
The golf simulator zone, meanwhile, allows resi- dents to hone their golf skills without having to spend half of the day traveling to suburban golf courses.
The Riverin Residence is dedicated to providing you with a wellness living space right in the middle of the modern, bustling metropolis of Saigon.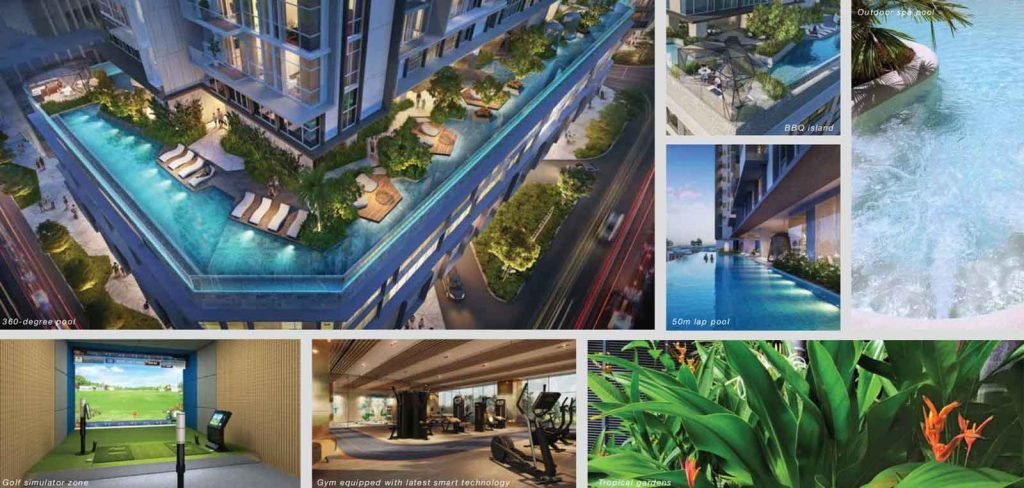 Apartment layouts of The Riverin Residences
---
Shophouse The Riverin Thu Thiem
Located in the upper class residential area of Dai Lo Vong Cung Street, in District 2.
---
News of The Riverin Thu Thiem
Here comes the domestic market news.
---
---