When you are looking to buy an apartment at district 9 for family, remember Masteri Centre Point project. Masterise Homes start open for sale Masteri Centre Point apartment 123 bedrooms from November 2020 with price from 50 million/m2.
ABOUT MASTERISE HOMES
Masterise Homes – a member of Masterise Group, is the pioneer in bringing world-class excellence to the development, operations, and management of luxury real estate products and services, in the Vietnamese market and beyond.
Masterise Homes relentlessly applies world-class standards in our developments. We are committed to delivering unrivalled quality in all products and services for the ultimate in customer experience, contributing to the community and promoting sustainability, in Vietnam and beyond.
THE NEXT LIFESTYLE AWAITS WITH MASTERI CENTRE POINT
A premium compound residence located in the heart of Vinhomes Grand Park, Master Center Point displays exceptional design and craftsmanship, enabling an aspirational lifestyle to the discerning urbanites. A fully functional hub with recreation, transport, educational and medical facilities awaits at the doorstep.
The project is developed by Masterise Homes, in partnership with world-class partners that includes Tange Associates (Japan) – architectural design, studio HBA (USA) – interior design, Land Sculptor (Thailand) – landscaping design, Mace (UK) – project consultant / construction management
PRIME LOCATION AT THE HEART OF VINHOMES GRAND PARK
1. DIRECT CONNECTIVITY & CONVENIENT ACCESS
Adjacent to all the amenities, facilities, shopping & entertainment within the township:
Vincom Mega Mall – the largest shopping center in HCMC with total area of ​​48.000m2
Vinmec International Hospital – an international general hospital with a team of leading doctors and nurses , modern international standard medical equipment.
The 36ha grand park – largest in the East of HCMC
The 1 st and only man-made ocean in HCMC
Manhatton Shopping and Entertainment Avenue
The sport complex for basketball, tennis, soccer
Vinschool Primary and Secondary Schools
45 Floor Office Tower
Manhattan Glory Yacht Dock
Other amenities such as Olympic – standard gym area ; BBQ garden and other special amenities such as kayak dock, aquarium themed kid's area
2. PERMANENT UNOBSTRUCTED VIEW
Masteri Center Point is the only premium compound residence with permanent unobscured view of Dong Nai River and Tac River, and directly overlooking the man-made ocean with white sand, the 36ha Grand Park, as well as the vibrant and colorful city center.
3. SUPERB TRANSPORTATION NETWORK
Neighboring major roads including Nguyen Xien, Phuoc Thien, Ring Rood 2, and Ring Rood 3. Easy access to Melroline no. 1, the new Eastern Coach Station, Long Thanh International Airport, Administrative Center of District 9, National University Villogo, Hi-Tech Park and other provinces through all four modes of tonsportation: river, road, rail and air.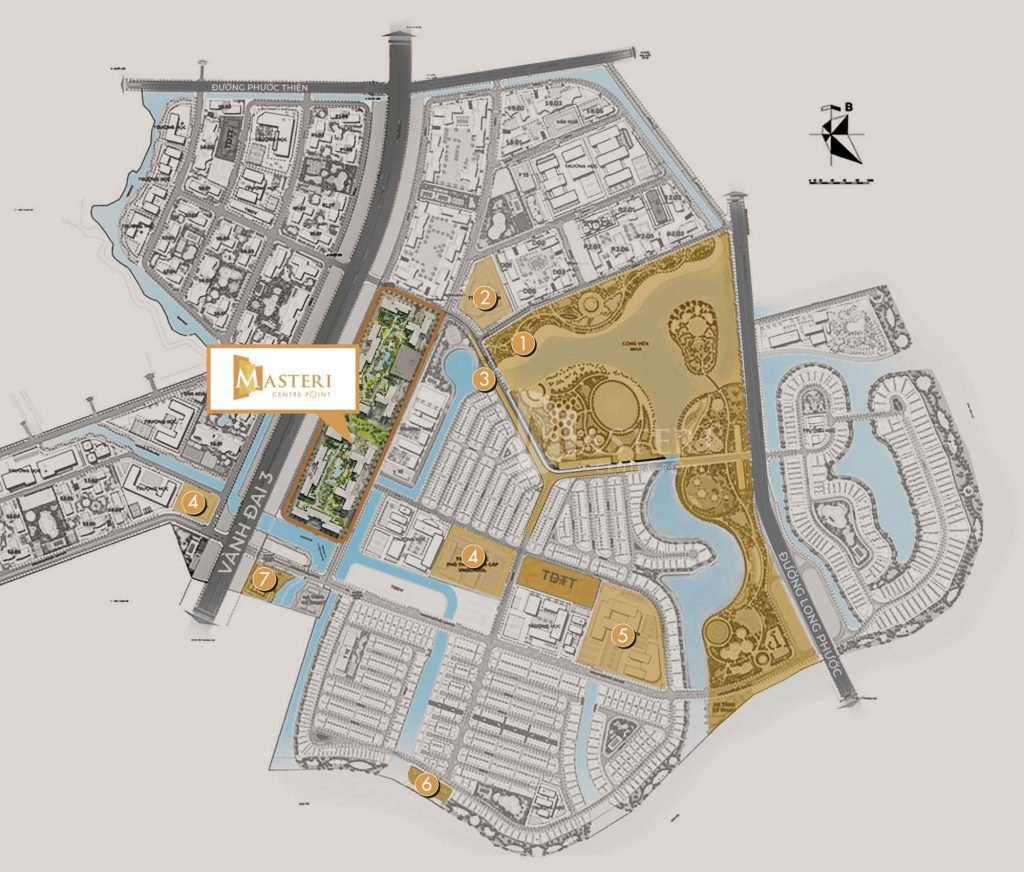 A PREMIUM COMPOUND RESIDENCE
Your privacy is absolutely "protecled" by a closed security system, ensuring 24/24 safety
Privileged access to remarkable facilities at the "Garden of the future" – an area of ​​futuristic concept boasting 39,000m2 in area
"Spaceship" swimming pool with Jacuzzi
Uniquely designed playground that stimulates the creativity of children
Modern gym with high quality equipment of international standards
Five-star lounge to pamper the elite community
A variety of services and amenities at the shophouse podium of each tower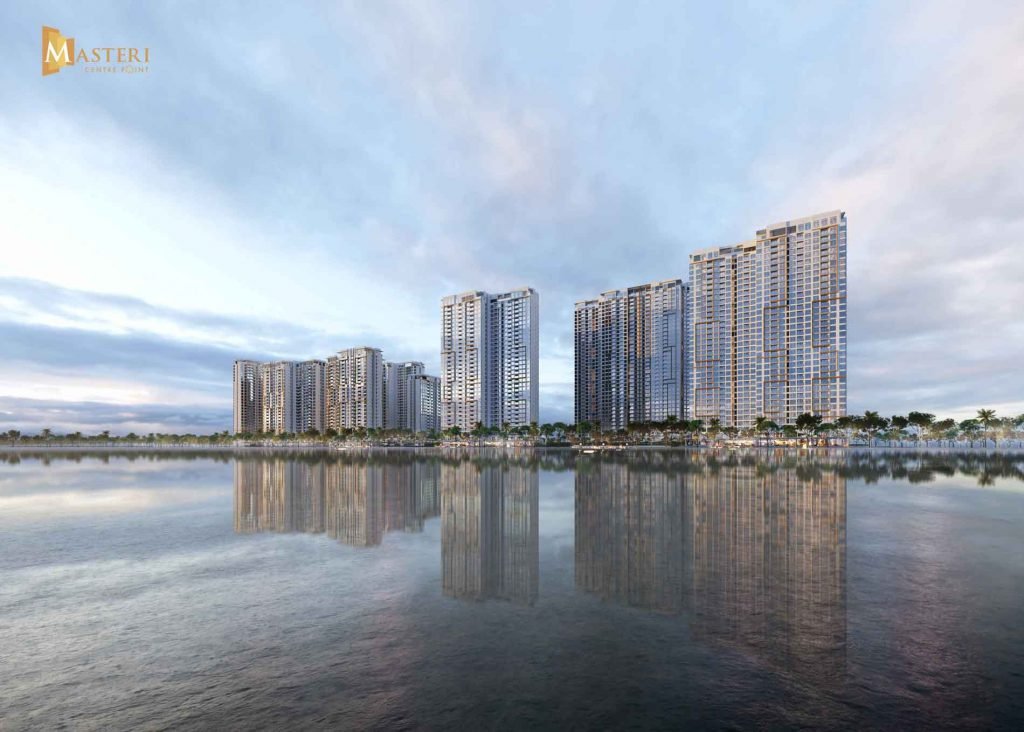 INCORPORATING ELEMENTS OF THE NATURE IN OUR DESIGN OF MASTERI CENTRE POINT
People of today desire to be close to nature, that is why we made a point to incorporate organic elements into our design. Sustainability is also a fundamental part of our design concept, for the ultimate enjoyment by generations of today and tomorrow.
Architectural Design by the world acclaimed Tange Associates (Japan)

C-shoped uneven frames, subtly Interwoven with floor-to-ceiling glass windows, creates a strong visual impact, at the same time allowing constant flow of fresh air into every apartment. It is a concept of superior aesthetics combined with sustainable architecture.

Interior Design by world renowned architect Studio HBA (USA)

The Interior tells a story of openness and togetherness. The design language is one of subtle tones and bold textures, rich materials and delicate details. Our lounge and lobby are based on the layering concept, using natural stone materials, warm metallic details, and timber veneers that complement each other. The warm colors and earth tones bring about a sense of serenity, and the large windows connects the inside to the outside.

Landscapes by Land Sculptor (Thailand) to top it all

Our landscape design celebrates tranquil energy with sustainability in mind. The "futuristic" landscaped gardens enable exclusive enjoyment by new, urban families, allowing them to and celebration life in a whole new way. Throughout the two different zones of Gardenia and Riviera, lush open spaces interplay with elegant interiors. Master Center Point becomes both a home and a lifestyle – A World of its Own.

"Linkable" layout for Versatility

Customers may easily combine two apartments for maximum efficiency. The units are designed in a manner to allow versatile furnishings and furniture settings.
MASTERI CENTRE POINT PROJECT INFORMATION
Project Name
MASTERI CENTER POINT
Developed by
Masterise Homes a member of Masterise Group
Total Area
70,783 m2
Project Scale
10 towers divided into 2 zones: Gardenia & Riviera
Building Height
22 – 39 Roos
Construction Density
Podium: 25%; Tower: 23%
Told Landscape Area
39.209 m2
Total Units
5.094 units
Expected to Hand-over
Q4/2022
Ownership Type
Long term
Unit Types
1 BR: 50.07 – 53.94m2
1 BR+: 51.2 – 54.33m2
2BR: 66, 81 – 79.98m2
3BR: 94.09 – 100.03m2
Hand-over Condition
Furnished
Hand-over Brand
Kohler (USA), Hafele (German), Daikin (Japan)
Architectural Design
Tange Associates (Japan)
Interior Design
Studio HBA (USA)
Landscaping Design
Land Sculptor (Thailand)
Main Contractor
Delta/ Central
Project & Construction Management
Mace (UK)
Read more information of project at link: https://masterisehomes.com
OUR WORLD-CLASS PARTNERSHIP
Tange Associates (Japan) – Acclaimed architectural design studio from Japan, known for world-class works including the Tokyo Olympic Stadium and the Yoyogi National Stadium, boasted as one of the most beautiful architectures of the 20th century. Tango was also a design consultant for Masteri Thao Dien and Masteri An Phu in HCMC.
Studio HBA ( USA ) – One of the leading global interior design firm, well-known for creating signature interiors for luxury hotels and resorts such as Hilton, JW Mariott, Ritz Carlton, Shangri-la, Four Seasons, boutique hotels, as well as casinos, restaurants, cruise ships, and word-class residences in the USA, Dubai, Shanghai, Singapore, and Japan.
Land Sculptor (Thailand) – World renowned landscape design consultant company with a proud porfolio that encompasses luxury apartment projects in Vietnam such as the Naman Retreat Resort, Mia Resort Nha Trang, Saling Club Nha Trang, Estella Heights, as well as many other projects in Singapore, China and the Middle East.
Mace (UK) – One of the largest construction and project management group in the world . Founded in 1990 and now operating in over 70 countries. Mace's proprietary system allows to implement processes and monitor construction quality on a global basis, ensuring meeting of the highest international standards. Moce's portfolio includes the Dubai Wharf, Marina Bay Sand (Singapore), Feature Tower & Capital Gate Hotel (Abu Dhabi), L'Avenue Shoghol, and the Shard (London) skycraper.
6 KEY ADVANTAGE POINTS OF MASTERI CENTRE POINT
1. Central location within Vinhomes Grand Park direct connectivity and convenient access to township facilities, shopping, dining & entertainment
2. The only premium residence with unobstructed and panoramic views of the Dong Nai River, Tac River, the Ocean, and Grand Park 36ha, the Mega Township and that of the city.
3. Abundance of Comfort – exclusive facilities within the residence compounds, coupled with access to the Mega Township's amenities.
4. Best in Aesthetics – the finest in architectural, interior, and landscape designs.
5. World-class Partnerships – Tange Associates (Japan) – Architecture design, studio HBA (US) – Luxury Branded Resort and Hotel Interior, Landsculptor (Thailand) – Landscape Design; Mace (UK) – Project Consultant / Construction Management.
6. Flexible financial package with exclusive privileges for buyers.
CONTACT WITH SALES DEPARTMENT OF MASTERISE HOMES
Sales Gallery address: Roundabout A12, Vu Tong Phan, District 2, HCMC